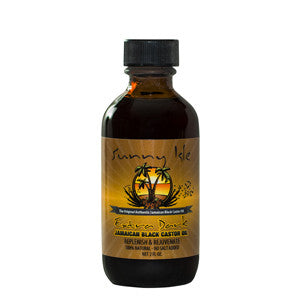 Sunny Isle Extra Dark Jamaican Black Castor Oil
Sunny Isle Jamaican Extra Dark Black Castor Oil replenishes and rejuvenates. This oil is 100% natural, and being 'extra dark' has the most ash content. It is thick and rich and is a very effective oil for all your hair and skin conditions.
Sunny Isle Extra Dark Jamaican Black Castor Oil is processed the traditional way. The organic seeds are roasted and ground by a manual grinder and then the crushed beans are boiled to extract the 100% pure, dark brown, organic oil. It's the best quality oil on the market. Why you may ask? Compared to other brands it is the darkest Jamaican Black Castor Oil because the beans are roasted longer which produces more ash content in this oil than any other oil on the market. More ash content increases the effectiveness of the oil. Therefore the Sunny Isle brand will strengthen and increase the length of your hair faster than any other brands on the market today!
Sunny Isle Extra Dark Jamaican Black Castor Oil:
100% natural
Strengthens hair
Thick and rich oil for hair and skin
---
People who bought this were also interested in
---