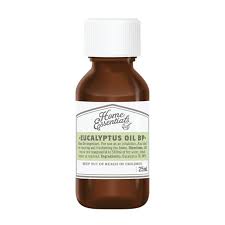 Home Essentials Eucalyptus Essential Oil
Hair Benefits of Eucalyptus Oil:
Eucalyptus oil has many antifungal properties that can help ward off infection, restrain residue build-up and clogging of pores on the head. Let's check out some eucalyptus oil benefits for hair:
Follicle Stimulation:
Follicles are tiny openings from where our hairs grow. Eucalyptus oil has many chemicals that promote blood vessel constriction and cleansing. This process, in turn, promotes follicle stimulation. The stimulation promotes hair development. The basic idea circles around getting an even blood flow to the skin around the follicles. Eucalyptus essential oil is a proven follicle stimulant.
Improved Hair Health:
Eucalyptus oil improves shine, thickness, and overall health of your hair. However, too much use can actually reduce the shine and result in a greasy scalp. Most experts suggest using eucalyptus oil for the hair an hour or so before bathing, and then using a good shampoo to remove the residue, followed by a good conditioner.
You'll Need: 50 ml olive oil, 5 ml eucalyptus oil Mix together eucalyptus and olive oil and gently massage this warm oil mixture onto the scalp to stimulate blood flow to the hair roots and comb. Shampoo and condition normally.
Relief from an Itchy Scalp:
You'll Need: 50 ml white vinegar, 5 ml eucalyptus oil and 1 litre water To relieve an itchy scalp, combine the above ingredients properly. Rinse the hair several times over a basin with the solution to ensure even distribution. Immediately shampoo and condition your hair to get instant relief.
Head Lice:
Eucalyptus essential oil has many bug-repellent qualities. It is a natural pesticide. It is quite common for people to use eucalyptus essential oil as a treatment for lice. Eucalyptus essential oil is good for the hair, it cleanses and moisturizes the scalp and promotes hair growth. It is, thus, an excellent alternative to the conventional cures that are severe on the hair. These shampoos and other products are crammed with noxious chemicals that can cause an itchy scalp and rashes. During an outbreak of head lice, try the following:
You'll Need: 3 ml eucalyptus oil and 30 ml regular shampoo Add eucalyptus oil to your regular shampoo in the ratio mentioned above (for example, in 60 ml of shampoo mix 6 ml of eucalyptus oil). Shampoo hair and cover it with a plastic shower cap for 10 minutes. Remove the cap, rinse hair and towel dry it. Comb hair with a fine tooth (nit) comb to help remove the eggs.
---
People who bought this were also interested in
---